If you're looking for a haircut that's up to date with the latest men's hairstyle trends, look no further! We introduced you to the skin fade haircut in our article on 2016 men's hairstyle trends, and now, you're going to learn all about it.
The skin fade is particularly unique because it stands out––or, rather, it jumps out. The contrast of shaved sides and a full head of hair is instantly attention-grabbing. It's an especially trendy, contemporary look, and best of all, it's easy to get.
So if you want this look, read on to learn the ins and outs of the trendy skin fade haircut.
What is the skin fade haircut?
A skin fade is the look achieved by cutting the hair shorter and shorter as it moves toward the neck. Whereas some haircuts require the hair to be the same length all around the head, skin fade haircuts demand the hair to be cut at decreasing lengths.
How do I get the skin fade haircut?
KORIGAMI BARBER SHOP 
Call or SMS for booking 0915804875
Add: 7th Tran Te Xuong street - Ba Dinh district - Hanoi ( Old Quarter )
http://www.keovang.com/men
Hi everbody !
We recommend to all you guys a nice barber shop with low price vs good quality 
Staffs can speak English so you can feel like home
Hairstyles includes :
Classic to Modern men's haircut
++ Fade cut
++ Clean cut
++ Undercut
++ Messy cut
++ Quiff
++ Side swept
++ Men bun
++ Men's long haircut
++ Hair tattoos
++ Faux hawk
and many more ...
Prices:
Haircut = 100.000 vnd ++
++ Hairwashing = 20.000 vnd
++ Moustache and Beard trimming = 20.000 vnd
++ Coloring = from 300.000 vnd
++ Perming = from 300.000 vnd
++ Straitening = from 300.000 vnd
Have a good trip to our country !!!
The skin fade haircut is all in the cut itself. You don't really have to style the faded hair at all; it's the hair on top you'll want to style. So for the skin fade haircut, it's important you go to a barber or stylist who's experienced with the cut or at least similar cuts.
Regarding the hair on top of the head: It's important to note that the type of skin fade haircut you get will dictate what you tell your stylist. Read on for more information on skin fade variations and styles.
For the sides and back, however, it's almost always the same. You'll simply ask your stylist for a fade. Specify the starting point (depending on the exact hairstyle you choose), and tell your stylist you want your hair to fade into your skin.
In most instances, you'll see guys with skin fades have gotten the fade extremely short. Many men typically request a shorter clipper setting like #3 or #4 for the top part of the fade (above the ears). Some go as short as a #2. The length of the clipper setting can completely change the look of your skin fade, so make sure you know what settings you want.
Also, consider how gradual you want your fade to be. If your fade starts at #5 and goes all the way down to skin level, it won't stand out as much. If you're going for a subtle, classy look, then consider starting from a higher clipper setting.
On the other hand, if you start your fade at a #2 or #3, it will pop out. That's because your fade starts at a low setting and doesn't have much lower to go. It only decreases 2 or 3 lengths before fading into your skin.
Take a look at examples with both of these styles, and see what you like. As always, we recommend taking in a picture of your desired haircut to your stylist.
And finally, guys with straight or slightly wavy hair will get the most out of a skin fade. It's more difficult to achieve with curly hair, though it can be done.
Skin fade with part
This is the most simplistic skin fade haircut, and it's one of the most classic. Combine the age-old, retro side part with a contemporary skin fade, and you'll be the definition of style.
This cut is as simple as it sounds––it's a skin fade haircut with a side part. To learn more about the side part, check out our guide to this timeless style.
After you know exactly what you want for the top, just ask for a fade on the sides. Again, be specific with your clipper lengths, and bring in pictures if you have any doubts.
Skin fade with pompadour
The pompadour was a popular style in 2015, and we expect to see more guys embracing the pomp in 2016. This also combines old with new, and it's a surprisingly versatile look.
Read our guide to the pompadour to learn more about the style. As with the skin fade/side part combo, this style is simply a pompadour combined with a skin fade. That's all you need to ask for to achieve this style. After that, it's all about maintaining the pompadour regularly to keep it in tip-top shape.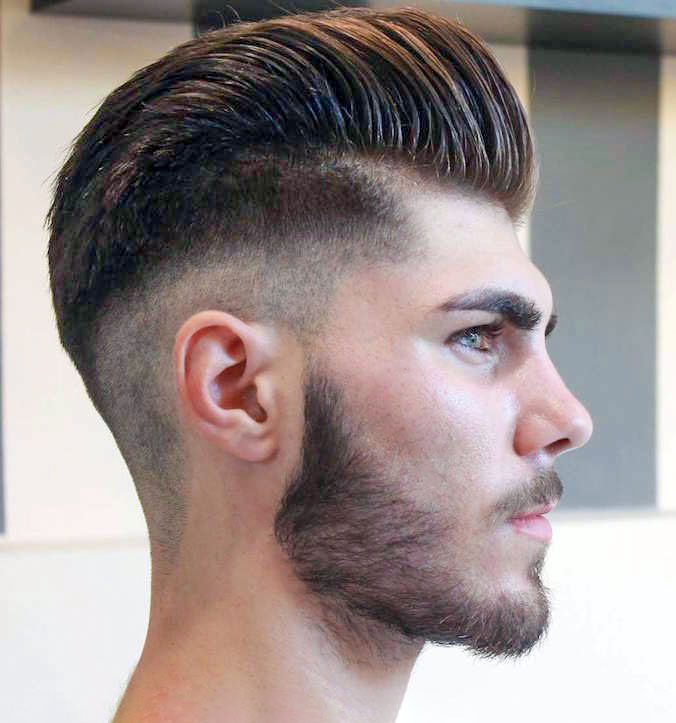 Quiff
A relative of the pompadour, the quiff has emerged as a men's hair trend in recent years, and it looks like it's here to stay for a while. This lively look requires some serious styling to achieve, so if you're up for a challenge, this is for you.
You'll need a good bit of length on top––2 inches is probably the shortest you can go. The longer the hair, the taller the quiff. To style it, apply product to damp hair, then brush your hair up while blow drying it at the same time. This styling process is similar to that of a pompadour.
Curls
We mentioned earlier that it can be difficult to achieve the skin fade with curls. However, this is one option that will come in handy for curly-headed guys.
In this style, let the hair on top grow out so your natural curls show. Add a skin fade on the sides and back, and you'll have unbelievably unique hair. This is similar to the textured curly undercut.
Slicked back hair
Last but not least, if you're going for an insanely retro, dapper look, slicked back hair is a must. This is a great skin fade haircut variation for gents who desire a classy appearance.
You can achieve this look in many ways. One good option is to get a cut that's ideal for a side part. Then, slick back your hair with a nice water-based pomade. This way, you can sport the side part, slick it all back, or do both!